Description
Arm Roast, is a cut from the upper arm area, and includes both meat and bone. It has a moderate amount of marbling and can be somewhat tough.
Best cooked with moist heat methods like braising or slow-cooking, this cut is often used in pot roasts or stews. Its deep beefy flavor is enhanced through slow cooking.
Judging Tips
This is the 120th most popular cut in the events we have filmed.

The most common mistake people make with this cut is calling it 41 - Arm Steak.
All 1 Arm Roast In Our System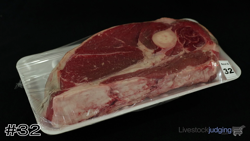 ---